If you are an open minded person, then this article is meant for you. Many have always looked at the pub as a venue to celebrate birthdays, get together, but it is a perfect place to have your wedding anniversary.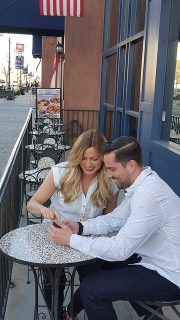 Many hesitate in holding their wedding anniversary in a pub saying that it does not bring out the romantic mood. It is time to stir up your relationship in a different unique way. If I haven't convinced you enough, am going to use an example of William and Kate story. The duke and duchess of Cambridge celebrated their anniversary in Crown-inn, Westleton. The inn is known for its fine food and log fires. If they can celebrate in a pub, why not you? With the right pub your wife or husband will be happy.
This is what you look for in a pub:
Reception
The reception should be good, they should be quick to respond to your needs. They got to be polite and patient with their customers. I have met staff members who are very rude, they tend to shun you off from going back to the pub. Considering you are taking the significant other to the pub for your wedding anniversary, they should treat him or her as a royal person. Some of the pubs got unique gifts they give to a couple in their special day.
Food
Long before, few pubs used to offer only fries, peanuts and snacks. Now, most of the pubs are trending towards providing fine food. Some large pubs have reserved areas for eating. It is also good if they offer variety of foods that one can choose from. Having less food to choose from,makes one bored. Also get to know about how their food tastes like, it should be sophisticated and unique. This way your significant other will be appeased by their food. We have already seen that fine food is important in an important day like this.
Drinks
The day is never done if there is no drink. I am not talking about alcoholic drinks but also non-alcoholic drinks. A good pub is one that has exquisite wine and variety of drinks.
Stunning Surrounding
If you are more of evoking emotions in situations, then you need to look for inns that have perfect landscape. Some inns have garden which one can reserve to celebrate their wedding anniversary. Others are strategically located near a water body where you can have some fun activities. Many people, especially women love places that have scenic views.
Room service
In case you are planning to take a night off from your kids, friends, then you can pay for the rooms. Rooms they offer should be private, aesthetically appealing, and have good room services. The room can have log fires a perfect place to cuddle with your loved one. In case you need special requirements, you can inform the staff. They are meant to be attentive and be into detail, you can give them your idea or plan and how you want to implement it, this way you give your loved one the best day ever.